Interested in knowing about the pharmaceutical companies in Switzerland, don't worry this article gives a better insight into the top best pharmaceutical companies in Switzerland.
There are many pharma companies in Switzerland and many have stood out on various world occasions from their exceptional performances.
We cannot discuss the pharmaceutical companies in Switzerland or others globally without mentioning the economic impact.
%30 of swiss exports are made up of pharmaceutical products from these companies scattered in different regions of the country.
As of 2017, Switzerland was recorded as the 2nd largest exporter of package medicine. With this, you can be certain that the pharma industries in Switzerland are not relenting in the services.
Introduction to the pharmaceutical companies in Switzerland
The Swiss pharma industries have great positive impacts on the economy ranging from employment rates and revenue generation.
Over 140,000 people are directly or indirectly working in the pharmaceutical industries in Switzerland and also contribute to 5.7% of the gross domestic product of Switzerland with %30 export from pharma industries having a worth of about $84 billion.
It would interest you to read "Best pharmaceutical companies in Denmark"
Switzerland is home to many pharmaceutical companies, as of 2013 41 life science companies had their international headquarters sighted in Switzerland.
Favorable government policies, a conducive and secured environment can be linked to the foreign attraction of these companies.
Top 10 best pharmaceutical companies in Switzerland
Below is the list of 20 outstanding domestic pharmaceutical companies in Switzerland however there are many pharma companies scattered in different regions in Switzerland;
Hoffmann-La Roche
Novartis
Alcon
Lonza Group
Galenica
Sonova
Ferring Pharmaceuticals
Galderma
Octapharma
Vifor Pharma
Straumann
Tecan
Acino Holding
Ypsomed
OM Pharma
Hoffmann-La Roche
Hoffmann-La Roche AG, commonly known as Roche, is a Swiss multinational healthcare company that operates worldwide under two divisions: Pharmaceuticals and Diagnostics.
It was founded on 1st October 1892 by Fritz Hoffmann-La Roche. Last year, it had revenue 58.32 billion CHF. Internally, Roche is organized into five major business areas: Roche Applied Science, Roche Professional Diagnostics, Roche Diabetes Care, Roche Molecular Diagnostics, and Roche Tissue Diagnostics (Ventana).
Among the Roche products is a non-prescription cough syrup containing its own active ingredient, Thiocol.
The orange-flavored syrup is an almost immediate success. Launched under the trademark Sirolin in 1898, the syrup remains on the market for over 60 years.
Address: Grenzacherstrasse 124 Basel, 4070 Switzerland
Tel:  + 41 61 715 4345
Fax: + 41 61 815 28 45
Email: Switzerland.ds@roche.com
Novartis
This is one of the pharmaceutical companies in Switzerland with 110,000 employees as of last year. Novartis has $48.66 billion in revenue as of 2020.
They focus to reimagine medicine to improve and extend people's lives with the use of innovative science and technology to address some of society's most challenging healthcare issues.
Address: Forum 1 Novartis Campus Basel, CH-4056 Switzerland
Tel: +41 61 324 11 11
Fax: +41 61 324 80 01
Alcon
Alcon was founded in 1945 and is also among the outstanding pharmaceutical companies in Switzerland specializing in eye care products.
They have a Revenue of $7.4 billion in 2019 and work in over 70 countries with their pharma products serving patients in more than 140 countries.
Alcon has a long history of industry firsts, and each year we commit a substantial amount in Research and Development to meet customer needs and patient demands.
Address: Rue Louis-d'Affry 6, 1700 Fribourg, Switzerland
Tel +41 58 911 38 00
Fax: 0844 828 289
Lonza Group
Lonza Group is a Swiss multinational chemicals and biotechnology company founded in 1897, with revenue of 4.508 billion CHF in 2020. They have 13,856 employees in 2020.
It is a leading global provider of integrated healthcare solutions that focus on enabling treatments that prevent illness and support healthier lifestyles.
They optimize scientific innovation and manufacturing technology to enable our customers to serve their patients and consumers.
Lonza provides a wide range of services and products from early phase discovery to custom development and manufacturing of active pharmaceutical ingredients to innovative dosage forms for the pharma and consumer health and nutrition industries.
Address: Lonza Group Ltd Muenchensteinerstrasse 38 CH-4002 Basel Switzerland
Tel: +41 61 316 81 11
Fax: +41 61 316 91 11
Galenica
This pharma company was founded in 1927 and as of 2019 it was recorded to have about 7,000 employees.
Galenica operates the largest network of pharmacies in Switzerland and offers well-known own brands and products, exclusive brands and products from business partners as well as a variety of on-site health services and tests for customers.
With over 500 own, joint venture, and independent partner pharmacies, their network of pharmacies offer unique potential for the sale of these and other brands.
Address: Untermattweg 8 Bern, 3027 Switzerland
Tel: +41 58 852 85 17
Fax: +41 58 852 85 58
Sonova
Sonova Holding is an internationally active Swiss company founded in 1947. It focuses on hearing care solutions. It is one of the largest providers in the sector worldwide and has about 14,200 employees as of 2018.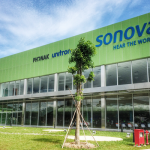 The group operates through its core business brands Phonak, Unitron, Hansaton, Advanced Bionics, and AudioNova. Across all businesses, Sonova pursues its vision of a world where everyone enjoys the delight of hearing and therefore lives a life without limitations.
Address: Laubisrütistrasse 28 8712 Stäfa Switzerland
Ferring Pharmaceuticals
Ferring Pharmaceuticals is a Swiss multinational biopharmaceutical company specializing in areas such as reproductive health, maternal health, gastroenterology, and urology.
It was founded in 1950 by Frederik Paulsen Sr and has a Revenue of 1.947 billion EUR in 2020. As of 2017, ferring had over 6,400 employees.
Address: Ferring International Center S.A. Ch. de la Vergognausaz 50 1162 Saint-Prex Switzerland
Tel: +41 58 301 00 00
Fax: +41 58 301 00 10
Galderma
Galderma S.A. is a Swiss pharmaceutical company specializing in dermatological treatments and skincare products. It has over 5,000 employees.
It was founded by Nestle and focuses to enhance the quality of people's lives through our innovative, science-based portfolio of sophisticated brands and services, trusted and recommended by healthcare professionals.
Address: Zugerstrasse 8 Postfach 492 Cham, 6330 Switzerland
Tel: +41 21 642 78 00
Octapharma
Octapharma was founded in 1983 by Wolfgang Marguerre. It is a family-owned pharmaceutical company, and bills itself as "one of the largest human protein manufacturers in the world, developing and producing human proteins from human plasma and human cell lines.
It has 31 locations with over 9,000 employees as of 2020. Octapharm 5 values remain Ownership, Integrity, Leadership, Sustainability, and Entrepreneurship.
Address: Seidenstrasse 2. Lachen SZ ​, SCHWYZ, 8853. Switzerland
Tel: +41 55 451 2121
Fax: +41 55 451 2110
Vifor Pharma
Vifor Pharma Group is a global specialty pharmaceuticals company and consists of the following companies: Vifor Pharma; Vifor Fresenius Medical Care Renal Pharma, a joint company with Fresenius Medical Care and Relypsa.
It was founded in 1933 and as of 2020 had a revenue of 1.7 billion CHF.
Vifor is among the world leaders in the discovery, development, manufacturing, and marketing of pharmaceutical products for the treatment of iron deficiency. The company also offers a diversified portfolio of prescription medicines as well as non-prescription drugs.
Address: Flughofstrasse 61 Glattbrugg, 8152 Switzerland
Tel: +41 58 851 61 11
Straumann
Straumann is committed to being your global partner of choice for premium tooth replacement solutions. It was founded in 1954 with over 5,954 employees as of 2018.
Straumann Group researches and develops manufactures and supplies dental implants, instruments, biomaterials, CADCAM prosthetics, digital equipment, software, and clear aligners for applications in replacement, restorative, orthodontic, and preventative dentistry.
Address: Straumann Holding AG Peter Merian-Weg 12 4002 Basel Switzerland
Phone: +41 61 965 11 11
Fax: +41 61 965 11 01
E-Mail: info@straumann.com
Tecan
Tecan Group Ltd. Was founded in 1980 and has over 1,500 employees. It is a Swiss company providing laboratory instruments and solutions in biopharmaceuticals, forensics, and clinical diagnostics for pharmaceutical and biotechnology companies, university research departments, and diagnostic laboratories.
Their systems and components help people working in clinical diagnostics, basic and translational research and drug discovery bring their science to life.
In particular, they develop, produce, market, and support automated workflow solutions that empower laboratories to achieve more.
Address: Tecan Group Ltd. Seestrasse 103 8708 Männedorf Switzerland
Tel:  +41 44 922 81 11
Fax:  +41 44 922 81 12
Email: info@tecan.com
Acino Holding
This company was established in 1836. They develop, manufacture and internationally market well-proven and innovative pharmaceuticals in novel drug delivery forms.
Acino is one of the leaders in advanced drug delivery technologies with a focus on modified release oral forms, and oral dispersible forms, for which we also hold patents.
Address: Thurgauerstrasse 36/38 CH-8050 Zurich switzwerland.
Tel: +41 44 555 22 00
Email: info@acino.swiss
Ypsomed
This pharma company was founded on 29th December 2003. The Ypsomed Group is a leading developer and manufacturer of injection and infusion systems for self-medication and a renowned diabetes specialist.
They develop and produce custom-made injection systems and also manufacture compatible pen needles with a unique click-on function for our own and all other widely available pens.
Address: Brunnmattstrasse 6 Burgdorf, 3401 Switzerland
Tel: +41 (0)34 424 41 11
Fax: +41 (0)34 424 41 22
Email: info@ypsomed.com
OM Pharma
OM Pharma is a global Geneva-based biopharmaceutical company. It is a leader in the prevention of recurrent respiratory and urinary tract infections and is also active in the treatment of vascular diseases.
Their marketed portfolio includes products for respiratory tract infections, lower urinary tract infections, chronic venous insufficiency, microangiopathies (e.g. diabetic retinopathy), hemorrhoids, and menometrorrhagia (heavy menstrual bleeding). Its key brands are Broncho-Vaxom®, Dicynone®, Doxium®, and Uro-Vaxom.
Address: Rue du Bois-du-Lan 22/1217, 1 Meyrin, Switzerland
Conclusion on the pharmaceutical companies in Switzerland
The pharmaceutical companies in Switzerland strive vehemently to give out their best in research, development, and distribution.
These companies have impacted the economic development of Switzerland and the world at large. However, it is important to note these companies listed above are in no order of ranking.
Recommended by the editor
Pharmaceutical companies in Sweden
40 pharmaceutical companies in Iowa
41 pharmaceutical companies in South Carolina
40 biggest pharmaceutical companies in Nevada